Sales
For more information on items from the Omnibus Society shop email obnz3583@gmail.com
Please send orders with payment by cash or cheque in New Zealand Dollars to: Omnibus Society, PO Box 9801, Wellington 6141, New Zealand. Please remember to add postage and packaging. Please make cheques payable to 6117 Ltd
Books
"Otago Road Services Ltd. A brief history"The definitive history of one of the South's most enduring private companies. $20-00
"A Driving Force" A history the Laugesen familiy and the Midland Group of Companies. The rise and fall of one of New Zealands most individual operators. $30-00
"Tranzit Through Time"The story of where one of the growing forces in today's passenger transport sector comes from. $30-00
Omnibus Bulletin
The Omnibus Society grew out of the Omnibus Bulletin, a monthly bus industry magazine that was published between 1981 and 1995. It included histories of many bus companies no longer in existance, along with current news of the day, wich now serves as a historical record in its own right. There is a Article Index if you are interested in a specific company and back issues are available at $5.00 each.
O B Monograph Series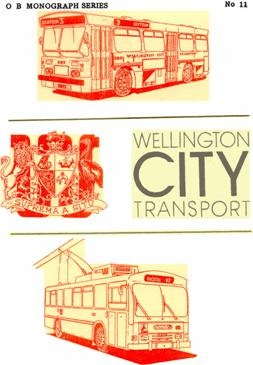 The Omnibus Bulletin published a number of monographs (small soft cover booklets) on a range of topics. Who knows, one day we may publish some more.
The monographs issued to date are:
1. Bedford VAL Twinsteers in NZ $2-00
2. NZ Half Cab Buses $5-00
3. Modern Motor Bodies Ltd $5-00 Currently out of stock
4. New Zealand's AEC Buses $5-00
5. Imported Coachwork in NZ (now overtaken by the used import flood) $ 5-00
6. Sundry British Bus Marques in NZ (lists a range of UK sourced chassis but excludes those from AEC, Bedford, BMC, Ford & Leyland) $5-00
7. One day this one - on the Eastbourne Borough Council - will come out….
8. Buses of the CTB $7-50
9. Southern City Transport $7-50 (Dunedin, Invercargill, Timaru)
10. Northern City Transport $7-50 (covers Eastbourne, Gisborne, New Plymouth,Palmerston North, Upper Hutt, Waikanae, Wanganui)
11. Wellington City Transport $7-50
12. Auckland's Local Authority Buses $10-00

If anyone wants to add to this series, please contact the Society. You get the glory, but we can't afford to pay our writers !
Topics which could be covered include :- an NZRRS fleet listing, definitive listings of Leyland Buses in NZ, Ford Buses in NZ, or a smaller task - the Austin/Morris /BMC source vehicles. A really brave person could take on the documenting of the Bedford bus in NZ.
Postage and Packaging
Group 1: Monographs and up to 5 back issues of OB
Group 2: Other books
New Zealand Addresses
Group 1: $1-00
Group 2: $3-00 per item
Overseas Addresses (Economy air)
Group 1: $NZ5-00
Group 2: $NZ10-00 per item (refunds will be given if actual postage cheaper)
Please send orders with payment by cash or cheque in New Zealand Dollars to: Omnibus Society, PO Box 9801, Wellington, New Zealand. Please make cheques payable to 6117 Ltd.
Home | About The Society | Latest News |Library | The Society Fleet | Running Sheet | Bus History | Links